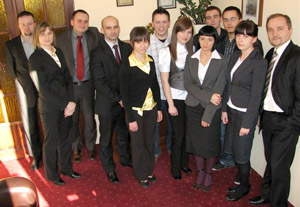 VINDICO is created by people with wide knowledge and experience gained through working in companies from the debt and finance sector for many years.
The VINDICO management board consists of people who cooperate directly with customers for many years. We have gained experience through working in many companies, however we couldn't influence the decisions made. Customers are the ones who know the best what is good for them. Having taken into consideration your suggestions and remarks and having the essential experience to run a company, we established VINDICO Business Consulting Sp. z o.o.[in Polish law: limited liability company]. The owner, as well as the members of the management board are people who know this business inside out. People working in VINDICO are specialists in many areas (law, economics, finance, psychology) whereas their professionalism, knowledge and thoroughness will make you profit from our services.
We always treat our customers individually, no matter if we cooperate on the regular basis or get single commissions.
During our cooperation you will have the possibility to check the results we achieve, through joining people responsible for contacting you directly with people responsible for making decisions.
VINDICO guarantees you high quality and effectiveness in solving problems, adapting the proper solutions to customer's expectations, behaving accordingly to the applicable law and ethical rules.
You are welcome!
Ask the adviser
Cooperation